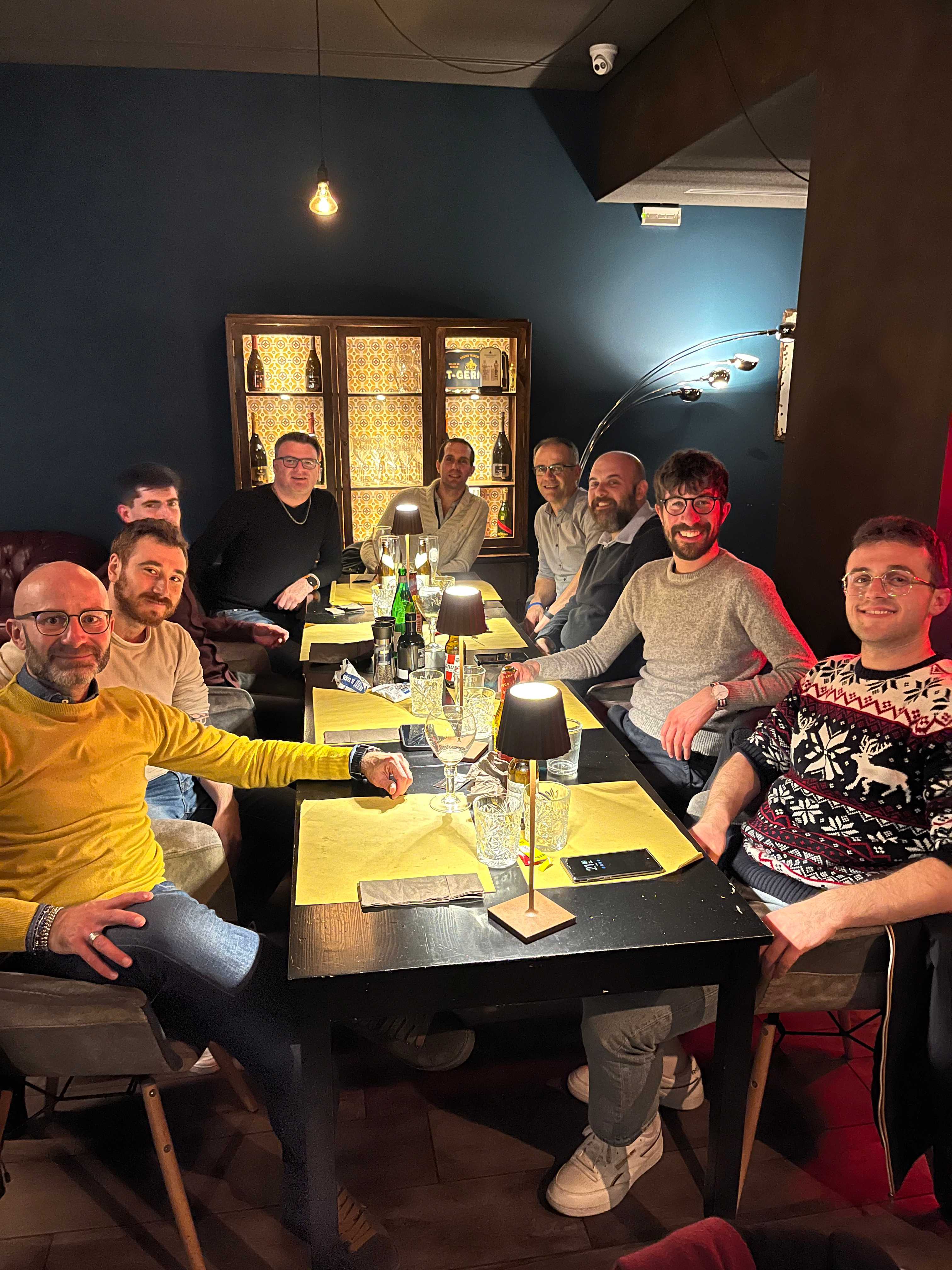 Ad un anno dalla nascita del Sircle BPER:Banca pubblichiamo il nostro primo articolo per raccontarvi cosa facciamo per questo nuovo cliente. "Improve for a Better Experience ! Help doing good bank with innovation tecnologies and new operation activities" è il Purpose per cui questo Sircle è nato e in questo anno abbiamo indirizzato la nostra attività e i nostri sforzi per raggiungere quello scopo.
Essendo la banca una realtà molto grossa, è necessario il contributo di varie figure per gestire l'infrastruttura. Il nostro Sircle infatti è composto da varie risorse, ognuno di un ambito specifico, ognuno con un ruolo definito .
La gestione del Sircle e le relazioni con il cliente sono in carico al nostro sircle leader Emilio Pandini: durante il 2022 abbiamo lavorato a Sprint , pianificando e poi verificando gli obiettivi da raggiungere. Daniele Gregis è l'Academier e il Security Enabler, Diego Paris , da quando è stato inserito, il nostro Champion mentre Armando Sina il nostro Reporter.
Entrando poi nel dettaglio dei ruoli, in ordine sparso, troviamo in ambiente Linux Mauro Terni il quale supporta Norman Ghilardi e Diego Mazzotti ( ex colleghi Sorint e ora dipendenti BPER ) nel ruolo di sistemista linux junior e nella creazione/clonazione di macchine virtuali linux (Vmware). Mauro segue anche piccoli progetti riguardanti upgrade sistemi operativi e/o installazioni di application service (jboss, tomcat) e infine la parte di ticketing riguardante la parte sistemistica Linux.
Per ciò che riguarda la virtualizzazione troviamo Daniele Gregis il quale in affiancamento a Marco Caravella mantiene e gestisce l'infrastruttura VMware e storage, in particolare si è visto coinvolto nell'implementazione dei nuovi vCenter, nell'installazione dei nuovi nodi e nella migrazione dai vecchi vCenter con network "piatta" e ruotata ai nuovi vCenter con gestione VLAN. VMware vCenter è una piattaforma di gestione centralizzata per la gestione e l'automazione delle infrastrutture VMware vSphere. Esso consente di gestire e monitorare le risorse delle macchine virtuali, i cluster di server, le risorse di storage e le reti. In particolare, vCenter può essere utilizzato per gestire le VLAN all'interno dell'ambiente VMware vSphere. Una VLAN è una rete logica che consente di suddividere una rete fisica in più sottoreti, consentendo di isolare i traffici e di creare più sicurezza. Saltuariamente da una mano ad Andrea Antozzi per la gestione di macchine Windows in particolare nella gestione delle policy legate a WSUS.
Luca Giussani si occupa della parte Middleware di BPER, precisamente segue più nel dettaglio tutti i server con Jboss, Tomcat e (pochi) HTTPD. Come sia ben intuibile il middleware è un software che si trova tra il sistema operativo e le applicazioni software, e serve a fornire servizi per supportare la comunicazione tra diverse componenti di un sistema informatico.
Andrea Pirisi gestisce i ticket di change request e incident inoltrati all'ufficio Networking Systems principalmente per la configurazione e troubleshooting su: – regole su firewall Check Point Gaia, FortiManager/FortiGate e Cisco ASA;
VPN L2L su firewall FortiGate e ASA;
F5 LTM per servizi di load balancing;
F5 APM per VPN SSL, AppTunnel e pubblicazione di risorse RDP;
filtraggio contenuti web sui proxy Forcepoint, Sophos XG e Squid;
analisi log dalle console dei firewall e proxy citati (SmartConsole, FortiAnalyzer, Sophos Log viewer);
router e switch Cisco;
monitoraggio eventi apparati tramite HP IMC e LibreNMS;
tool propietari interni per la gestione dei servizi DNS, DHCP e IPAM. A questo si aggiunge il compito di ingaggiare i team di operation esterne (Fastweb, TIM, Numera, etc.) per la configurazione degli apparati in loro gestione.
In Networking Systems troviamo anche Alessandro Caramelli il quale è principalmente impegnato nella migrazione della vecchia infrastruttura(end of support ) a una nuova infrastruttura meglio gestibile ma soprattutto conforme a determinate norme di sicurezza. Dunque, un'infrastruttura con macchine appartenenti a un unico vendor, più potenti e gestite in maniera più intelligente attraverso la virtualizzazione. In questo modo una sola macchina può rilasciare diversi servizi.
Armando Sina supporta Elisabetta Ferrara nel monitoring e nella gestione degli apparati di rete come switch e router, nella gestione dei ticket riguardanti problematiche di rete come apparati guasti, filiali isolate e postazioni di lavoro fuori rete. Inoltre, fornisce supporto ai vari tecnici, monitora le performance delle filiali dal punto di vista della connettività e ispeziona l'infrastruttura LAN per garantire che tutto funzioni correttamente.
Diego Paris è specializzato nell'utilizzo e nell'implementazione di prodotti e servizi Microsoft. Diego gestisce principalmente la parte di Active Directory e le policy del WSUS. Windows Server Update Services (WSUS) è un servizio che aiuta a gestire e distribuire gli aggiornamenti di Windows Server. Con WSUS, è possibile scegliere quali aggiornamenti installare, quando e su quale server, in modo da mantenere i server sempre aggiornati e sicuri. Inoltre si occupa anche della parte di ticketing.
Mirko Urso fornisce supporto a Simone Carelli e a Giovani Gamba nell'installazione manutenzione e gestione delle CSA. In generale, le attività del supporto includono: • Configurazione degli CSA • Risoluzione di problemi tecnici, attraverso la diagnostica e la risoluzione dei guasti • Manutenzione preventiva • Monitoraggio e controllo degli ATM tramite software di gestione remota • Gestione dei fornitori e delle parti di ricambio • Interventi di emergenza in caso di guasti o malfunzionamenti degli ATM
A fornire Supporto al gruppo ATM-CSA troviamo anche Anwar Hajjar il quale si occupa del monitoraggio ATM a Modena, è la prima risorsa inserita su questa sede.
Lato DB troviamo Gilbert Persico che da dicembre si occupa della migrazione dei database Oracle verso OCC (Oracle Cloud Customer) e Paolo Negroni che supporta il cliente per la gestione dei db MS-Sql Server.
Massimo Buongiorno e Diego Nannicini sono due Storage System Engineer che si occupano di vendor come Netapp, Hnas e Infinidat. Le loro principali attività includono il monitoraggio dei volumi di archiviazione, l'amministrazione e la risoluzione di indidents e changes. Inoltre, si occupano di impostare i permessi sulle directory di rete e di agire come amministratori del gruppo Active Directory.
Il Sircle è di recente creazione, il cliente è nuovo ma sin da subito siamo stati capaci di far emergere la nostra professionalità, la nostra competenza e la nostra disponibilità. Siamo stati coinvolti nel Progetto Lanterna legato all'acquisizione di Banca Carige: oltre a Daniele Gregis, il quale durante il CWE è stato reperibile in orari notturni e di presidio giornaliero, tutti gli altri hanno partecipato alla predisposizione degli ambienti e poi si sono resi disponibili in caso di necessità. La migrazione è andata bene , i tempi sono stati rispettati e come Sorint abbiamo raggiunto un primo obiettivo . Primo di tanti …. Stay Tuned
[ENG]
One year after the birth of Sircle BPER:Banca, we are publishing our first article to tell you what we do for this new client. "Improve for a Better Experience! Help doing good bank with innovation technologies and new operation activities" is the Purpose for which this Sircle was born and in this year we have directed our activities and our efforts to achieve that purpose.
Since the bank is a very large reality, the contribution of various figures is needed to manage the infrastructure. In fact, our Sircle is made up of various resources, each of a specific area, each with a defined role.
Sircle management and customer relations are in charge of our sircle leader Emilio Pandini: during 2022 we worked on Sprint, planning and then verifying the goals to be achieved. Daniele Gregis is the Academier and Security Enabler, Diego Paris, since he was inducted, our Champion while Armando Sina our Reporter.
Going into the details of the roles, in no particular order, we find Mauro Terni in the Linux environment who supports Norman Ghilardi and Diego Mazzotti (former Sorint colleagues and now BPER employees) in the role of junior linux system administrator and in the creation/cloning of linux virtual machines ( vmware). Mauro also follows small projects concerning operating system upgrades and/or application service installations (jboss, tomcat) and finally the ticketing part concerning the Linux system part.
As far as virtualization is concerned, we find Daniele Gregis who alongside Marco Caravella maintains and manages the VMware and storage infrastructure, in particular he has been involved in the implementation of the new vCenters, in the installation of new nodes and in the migration from the old vCenter with "flat" network and rotated to the new vCenter with VLAN management. VMware vCenter is a centralized management platform for managing and automating VMware vSphere infrastructures. It allows you to manage and monitor virtual machine resources, server clusters, storage resources, and networks. In particular, vCenter can be used to manage VLANs within the VMware vSphere environment. A VLAN is a logical network that allows you to divide a physical network into multiple subnetworks, allowing you to isolate traffic and create more security. Occasionally gives a hand to Andrea Antozzi for the management of Windows machines in particular in the management of policies related to WSUS.
Luca Giussani takes care of the Middleware part of BPER, precisely following in more detail all the servers with Jboss, Tomcat and (a few) HTTPDs. As can be easily understood, middleware is software that is located between the operating system and software applications, and is used to provide services to support communication between different components of a computer system.
Andrea Pirisi manages change request and incident tickets forwarded to the Networking Systems office mainly for configuration and troubleshooting on: – Check Point Gaia, FortiManager/FortiGate and Cisco ASA firewall rules;
L2L VPN on FortiGate and ASA firewalls;
F5 LTM for load balancing services;
F5 APM for SSL VPN, AppTunnel and RDP resource publishing;
web content filtering on Forcepoint, Sophos XG and Squid proxies;
log analysis from the mentioned firewall and proxy consoles (SmartConsole, FortiAnalyzer, Sophos Log viewer);
Cisco routers and switches;
device event monitoring via HP IMC and LibreNMS;
internal proprietary tools for managing DNS, DHCP and IPAM services. Added to this is the task of engaging the external operation teams (Fastweb, TIM, Numera, etc.) for the configuration of the devices under their management.
In Networking Systems we also find Alessandro Caramelli who is mainly involved in the migration of the old infrastructure (end of support) to a new infrastructure that is better manageable but above all compliant with certain security standards. Therefore, an infrastructure with machines belonging to a single vendor, more powerful and managed in a more intelligent way through virtualization. In this way a single machine can release several services.
Armando Sina supports Elisabetta Ferrara in the monitoring and management of network equipment such as switches and routers, in the management of tickets regarding network problems such as faulty equipment, isolated branches and off-network workstations. It also provides support to various technicians, monitors branch office connectivity performance and inspects the LAN infrastructure to ensure that everything is functioning properly.
Diego Paris specializes in the use and implementation of Microsoft products and services. Diego mainly manages the Active Directory part and the WSUS policies. Windows Server Update Services (WSUS) is a service that helps manage and distribute Windows Server updates. With WSUS, you can choose which updates to install, when, and on which server, to keep your servers up-to-date and secure. It also takes care of the ticketing part.
Mirko Urso fornisce supporto a Simone Carelli e a Giovani Gamba nell'installazione manutenzione e gestione delle CSA. In generale, le attività del supporto includono: • Configurazione degli CSA • Risoluzione di problemi tecnici, attraverso la diagnostica e la risoluzione dei guasti • Manutenzione preventiva • Monitoraggio e controllo degli ATM tramite software di gestione remota • Gestione dei fornitori e delle parti di ricambio • Interventi di emergenza in caso di guasti o malfunzionamenti degli ATM
To provide Support to the ATM-CSA group we also find Anwar Hajjar who deals with ATM monitoring in Modena, he is the first resource inserted on this site.
On the DB side we find Gilbert Persico who has been in charge of the migration of Oracle databases to OCC (Oracle Cloud Customer) since December and Paolo Negroni who supports the customer for the management of the MS-Sql Server db.
Massimo Buongiorno and Diego Nannicini are 2 Storage System Engineers working with vendors such as Netapp, Hnas and Infinidat. Their main tasks include monitoring storage volumes, administering and resolving incidents and changes. They also set permissions on network directories and act as administrators of the Active Directory group.
The Sircle is recently created, the customer is new but we were able to bring out our professionalism, our competence and our availability right from the start. We were involved in the Lanterna Project linked to the acquisition of Banca Carige: in addition to Daniele Gregis, who was available during the CWE during the night and during the day, all the others participated in the preparation of the environments and then made themselves available in case of need. The migration went well , the deadlines were respected and as Sorint we achieved a first objective . First of many…. Stay tuned